Call : +91-9560075009 , +91-9999029051
Email :tempotravellerinncr@gmail.com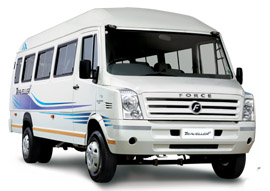 Sai Drishti Travels Pvt Ltd.




About this Page :
SAI TOUR N TRAVELS is one of the leading Tempo Traveller Rental Company having a wide network of tempo travellers. We have experience of providing top-of-the -line service in car rentals.We fulfill our clients with 24 hours service, round the clock operation 7 days a week. The quality and service standard have earned the company patronage of some of the most respected names in Corporate's, Leading Hotels & MNC's. The company's main thrust is to build enduring business relationships through its fleet strength, service standard. Economic buying and supplying of branded/customized car products. Finest cars and promptest service, we assure you cars in excellent condition and on time always.


We specialize in servicing the corporate sector and can take care of total management of your Tempo Traveller rental needs through a single window service system manned by staff who is always on a call-forwarding mode.We have a good team of professionals that have sheer determination and hard work. They are highly qualified and experienced and able to achive great heights in a very record time. We are committed to give fullest satisfaction to our customers.
Address : 2L, 59, New Industrial Twp 2, New Industrial Town, Faridabad, Haryana 121001
Updated On : Tuesday, May 17, 2022
Post link : http://tempotravellerindia.in/Tempotraveller-vendor.asp?id=JNKRQOF8
Website : http://www.saitourntravel.com
Keywords : Tempo traveller rent in Faridabad | Faridabad tempo traveller
hire tempo traveller Faridabad | tempo traveller in Faridabad
tempo traveller booking Faridabad
Total Views : 588
---
---